Tired of being pushed around by water and moisture problems? Take back control with SINOAMCO Waterproofing Technology' full line of sheet waterproofing products.
SINOAMCO Waterproofing Technology has been helping building owners, designers, and contractors fight off the ravages of moisture infiltration for over 25 years. The SINOAMCO Waterproofing Technology system of moisture protection products is designed to work from the ground up to provide you with the best available defense against moisture infiltration for the buildings.
Our line of sheet-applied waterproofing membranes are designed to give you the best possible moisture protection. These sheet goods provide continuous, consistent thickness and have been used in projects around the world. These tough membranes feature strong adhesive properties and will bond with most surfaces. For quality sheet-applied waterproofing membranes, choose SINOAMCO Waterproofing Technology.
NEW PRODUCT: HDPE Self-Adhesive Waterproofing Membrane
Sinomaco high polymer HDPE self-adhesive waterproof membrane (non-asphalt)  is a pre-paving type polymer self-adhesive waterproof membrane which has superior performance, multi-layer composite waterproof material, including a layer of high density polyethylene (HDPE) base board, a self adhesive layer which can react with HDPE base board and the sand particles or plastic film are covered. This waterproofing membrane with cast-in-place concrete by chemical cross-linking to achieve high strength bonding can completely prevent moisture penetration and leaking, without basal displacement effects. Can walking on it without using protection board if the sand covered membranes are applied and can be placed directly on the pouring skeleton reinforced after mat the holder or pad. It can effectively prevent a gas leak, gas escapes, but also have excellent resistance to puncture plant roots and backfill dicing capabilities. It has excellent weather resistance and long service life.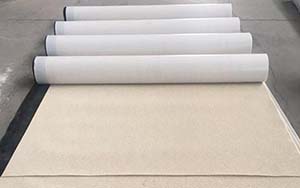 How does moisture enter into my building?
Moisture is found in some form or another on every building site. The difference between a satisfied owner and a "problem" project is how you deal with this moisture. By developing systems that are designed to act together to provide complete protection, SINOAMCO Waterproofing Technology can help you design and build a structure that is protected.
What makes up the total moisture control package?
SINOAMCO Waterproofing Technology manufactures a complete line of sheet waterproofing and moisture control products both coating and membranes. When these products are used in combination as a system, they ensure that you have complete control of moisture migration in your facility.
---
Post time: Mar-30-2020